The history of online slots
The history of online slots
Caption - Slot machines have ruled casinos for decades.
As you may have guessed, here at Poker Stars Games, we love our slot machine games. The spin of the wheel, and that winning jingle as you hit the jackpot make for one of the most exciting games you can play at any online casino. But where did it all begin? How far back does the history of online slots actually go?
Before we delve into the origins of online slots, let's first take a quick look at the history of their real-world counterpart. Slot machines have been around since the late 19th century. In gaming circles, Charles Fey's Liberty Bell is accredited as the machine that started it all but did you know that an earlier machine predated it by four years? That's right, back in 1891 Sittman and Pitt developed the first gambling machine in Brooklyn, New York. This was a far more complex machine than the simple 3-drum Liberty Bell, and included 50 card faces and was based on the game of poker.
By the early 20th century, saloons and barber shops all over the US had their own 'Bell' slot machines making this type of game one of the most popular in the country. And in 1963, magnets had entered the industry with Bally introducing the first electro-mechanical slot machine. Just 13 short years later, the success of video games such as Atari's Pong led gaming companies to introduce video poker machines. And the rest, as they say, is history.
For over 30 years, video slots ruled the world of gaming. They were the kings of the gambling industry and in many cases, a casino's biggest income stream. However, in the early 90s, something happened that was set to change the gaming landscape forever; the World Wide Web was born.
It's hard to imagine that there was a time when Google didn't exist. A time when we didn't have the ability to make instant contact with people all over the world. And a time when we had to leave the house to play casino games. But yes, there was indeed a time not so long ago when the only slot action you would get would be at the local bar, casino, or arcade.
Thankfully all that changed in 1996 when the internet's first online casino opened in the digital realm. The first games we saw online were the classics blackjack and roulette, and while the internet wasn't easily accessible for many, these games proved popular for the ever-growing online community. These games were of course, quite basic in both gameplay and appearance but as time went by and technology improved at an increasingly rapid rate, we started to see more game choices added to casinos.
It's not entirely clear what was the very first online slot machine game that was created, but it arrived sometime not long after 1996. The reason it's unclear which online slot came first is that there were so many of them. Although online poker took a little longer to take off, other games in the online casino industry boomed almost as soon as they launched and online slots were a particularly successful niche.
So what was it that made online slots so popular? Well, for a start, developers now had the ability to introduce as many variations of a game as they wished. Development was considerably cheaper than producing real-world machines, and slots that were unpopular could be replaced at the drop of a hat. Add to that the ability to create themed online slots that were relevant in current pop culture and gaming companies had a recipe for success.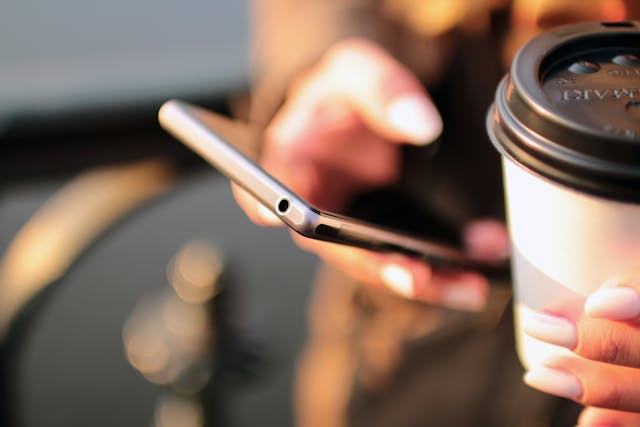 Caption - Smartphones changed the game.
In the years since their inception, online slots have changed very little except in terms of graphics. But how we play them has changed immeasurably. In the 90s when the internet was a luxury that not everyone could afford, the industry was relatively small. Fast forward to today when smartphones invariably have internet access, and the market has grown to become a multi-billion-dollar industry.
It's clear that online slots are some of the most popular games on the internet and that trend isn't going to change very much over the coming years. With more and more people now having easy access to these games and competition for customers at an all-time high, it will be interesting to see what innovations developers come up with next. Could we see 6, 7, or even 8 reel slots? Who knows!